awesome instruction
On Saturday, the 14 groups that will be competing will get a real treat: an individual group coaching session with Deke Sharon.


judging

Judging will be performed by Naturally 7, and our Sing-Off will be MC'd by Deke Sharon! Our festival is designed to be a positive learning experience, with a strong emphasis on collaboration, constructive feedback, and a sense of musical connection for all!


our amazing clinicians and judges
Born in San Francisco, California, Deke Sharon has been performing professionally since the age of 8. Heralded as "The Father of Contemporary A Cappella," he is responsible for the current sound of modern a cappella, having pioneered the modern vocal-instrumental sound in college, subsequently spreading it around the world. He produced "The Sing-Off" on NBC and worldwide (Netherlands, China, South Africa). In addition, Deke served as arranger, on-site music director and vocal producer for Universal's "Pitch Perfect" 1, 2 & 3 starring Anna Kendrick & Rebel Wilson.

Deke founded the Contemporary A Cappella Society while in college, and is responsible for many seminal a cappella programs, including the CARAs (Contemporary A Cappella Recording Awards), ICCAs (International Championship of College A Cappella), BOCA (Best of College A Cappella Compilation), the first contemporary a cappella conferences (the A Cappella Summit), the Contemporary A Cappella League, the professional theatrical touring ensemble Vocalosity, and Camp A Cappella. He is also contemporary cappella's most prolific arranger, having arranged over 2,000 songs, with many of them in print worldwide with Hal Leonard/Contemporary A Cappella Publishing. He has written 5 books: "Acappella Arranging" (2012), "A Cappella" (2015) and "The Heart of Vocal Harmony" (2016), "A Cappella Warmups for Pop and Jazz Choir (2017) and "So You Want To Sing A Cappella (2017). He is also vocal arranger and producer for the Broadway's first a cappella musical: In Transit (2016).

As the founder, director and arranger for the House Jacks for 24 years, the original "Rock Band Without Instruments," Deke shared the stage with countless music legends, including Ray Charles, James Brown, Crosby Stills and Nash, Run DMC, The Temptations, LL Cool J and the Four Tops, performed for luminaries including President Bill Clinton and performed the Monday Night Football Theme with Hank Williams Jr. in 2011. He has produced dozens of award winning a cappella albums (including Straight No Chaser, Committed, Nota, Street Corner Symphony and the Tufts Beelzebubs, Pitch Perfect and In Transit), created a cappella groups for Disneyland and Disneyworld, and frequently tours the world teaching a variety of topics to students and professional singers. His voice can be heard in commercials and video games, including "Just Dance Kids 2." He is one of only 20 honorary members of the Barbershop Harmony Society since 1938, as well as an honorary member of BYU Vocal Point, and received CASA's lifetime achievement award in 2016 and the Tufts Barnum Award for excellence in entertainment in 2017. You can see him on television on Lifetime's "Pitch Slapped" and his newest show for the BBC: "Pitch Battle."


Peter Hollens is an American entrepreneur, pop singer, and producer best known for his work on YouTube as an a cappella cover artist. With more than 1.6 million subscribers, his videos have reached a quarter of a billion views on FaceBook and YouTube since 2011. Hollens has collaborated and performed with several award-winning artists including Brian Wilson, Jason Mraz, Hunter Hayes, Gladys Knight, Lindsey Stirling, George Watsky, Jackie Evancho, and ThePianoGuys.

Peter has released over 165+ digital singles to date and continues to release new music every other week. He has been involved with a cappella music since 1999 when he co-founded the University of Oregon's male a cappella group On The Rocks. In 2010 he and the group were featured on NBC's

The Sing Off Season 2

.

​

A native of Oregon, Peter is married to Evynne Hollens, who is also an a cappella artist who founded the group Divisi at University of Oregon, the real-life Bella's from the movie Pitch Perfect. Together, Peter and Evynne traveled the world, singing on cruise ships, before settling in Oregon with their son Ashland. Peter now serves as an adjunct professor at the University of Oregon, teaching people how to make a living doing what they love.

Hollens also consults many of his fellow peers and advises companies including Patreon, Loudr, Tubular and is on the YouTube creator advisory board.
| | |
| --- | --- |
| | Naturally 7 is a world renowned vocal band known for their signature style, "Vocal Play", which uses their voices to replicate instruments. The band was founded in New York City in 1999 by brothers, Roger and Warren Thomas. Drawing from their church background, combined with the influences of Hip-Hop, R&B, and Gospel, they crafted a unique sound that defies genre. It must be seen to be believed. Naturally 7 is not satisfied with wowing the millions they perform for all around the world, they also aim to lift their spirits and feed their souls with the positive messages in their music. Their goal is love and empowerment through the most powerfully influential tool known to man, the human voice. |
Powered by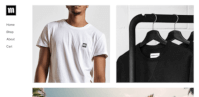 Create your own unique website with customizable templates.